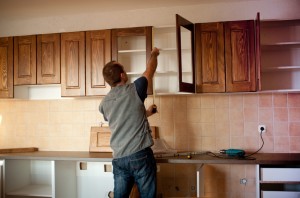 Kitchen remodels have consistently ranked among the highest value vs. cost projects according to remodeling surveys. Most new kitchen appliances are quieter, more energy efficient and qualify for energy tax credits. There is now a greater variety of cabinet and counter top selection available than ever before.
Kitchen cabinet layout and design is the first and most important part of the kitchen remodeling process. Kitchen design magazines and model centers provide great ideas, and some customers have a talent to develop their own kitchen layouts. If you're not sure, a kitchen design professional provides the best resource in developing a kitchen plan which meets the function of the space and incorporates the latest in kitchen style and products.
Great inspiration can be found at www.houzz.com or BHG.com.